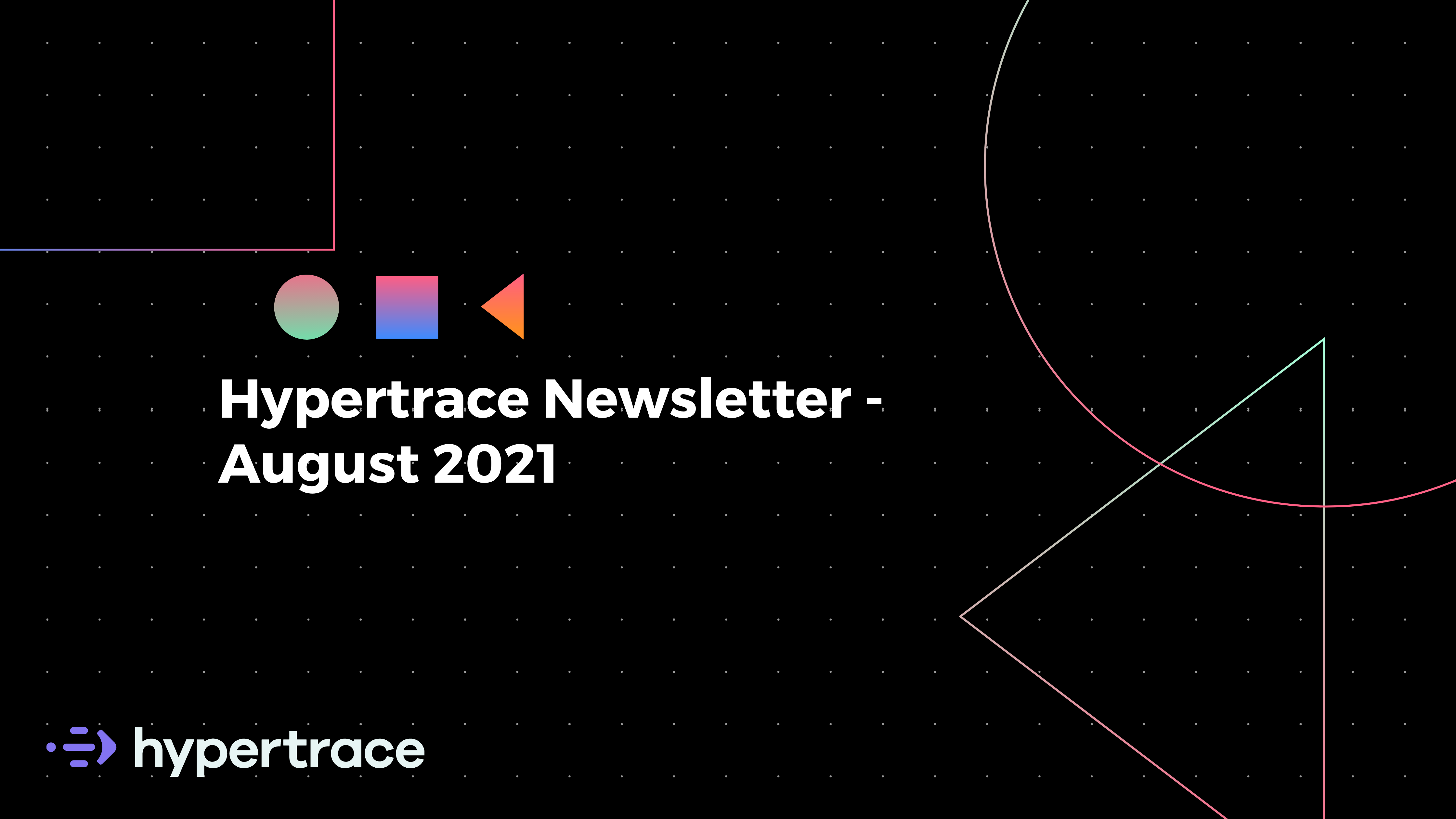 Hypertrace Newsletter August 2021
What's happening in Hypertrace world this August?
Are you taking enough time to appreciate yourself and what you got?
I started this new meditation routine last week about appreciating what you have and being grateful for people in your life and it feels really good. Also took a small vacation to replenish my soul and to be honest, I am back with pretty good ideas and fresh perspectives around a lot of things in my life and work.
Talking about fresh things, you might be wondering what's fresh in the Hypertrace world? Let's talk about it, shall we?
Product

New features in July 2021

Hypertrace Alerting - Alerting is one of the major and most demanded features which will help users to reduce MTTD and MTTR and fasten their debugging process. In this video demo on YouTube, Rishabh will walk you through how Alerting in Hypertrace works and how you can get started with it.

Community

Razorpay's user story: Razorpay is one of the major users of Hypertrace and they recently shared with us how Hypertrace is helping them solve the problems within their complex microservice architecture. Feel free to check out the video!

Read some of our recent blog posts:

Events

In last month,

We had an interesting discussion with Wu Sheng on "Service mesh Observability" - you can watch the on-demand version here or listen to a podcast here.
Pavol Loffay and I discussed Telemetry and how it works and it's future for Observability here. You can also listen to the podcast here.
I got an opportunity to participate in Launchies podcast by Relicans where I talked about how everyone can get started with contributing to Open Source. Check it out here.
Community Calls - you can find a recording for July community call here. From this month onwards you can join us for our community call on the last Thursday of the month at 8:00 AM PST/ 8:30 PM IST/ 11:00 AM ET/ 5:00 PM CET

Upcoming events

In August, I will be talking to Kislay Verma about how Observability is not all about debugging. Register for it here.
Catch us talking about Distributed Tracing at India VMUG Virtual UserCon on 19th August.
We will be talking about Observability for modern applications at an event organized by the EPAM community on 20th August. Register for that here.
If you have any questions around Hypertrace or you are evaluating Hypertrace and want some help getting started, feel free to join our slack community and reach out to me or any other member from our team. You can also post your questions in GitHub discussions or create a GitHub issue for feature request.
Thank you for being an amazing community member and stay tuned for more exciting Hypertrace updates in the coming month!
Take care and stay safe.
| About author | |
| --- | --- |
| Jayesh is a founding engineer/ Product Manager at TraceableAI and he is building Hypertrace. He loves reading and you can find him on twitter and linkedin to discuss anything around tech. | |